Do you need Southbeach?
Our customers use Southbeach models to communicate complex ideas, to facilitate work with their teams and to capture knowledge from domain experts. The approach deepens their understanding of a situation or system or idea, with a view to improvement and change.
Tasks include pinpointing root causes, solving problems and resolving human or engineering design contradictions. The software helps our clients to generate new ideas and to align the perspectives and requirements of stakeholders, setting a course correction or new goals.
No single industry or role
Our customers come from many different industries. We have users in both technical and non-technical disciplines, including research & development, product and service design, marketing, operations, strategy and planning.
The case studies below focus on the Fortune 500 management consulting industry.
Case study - IT Systems Transformation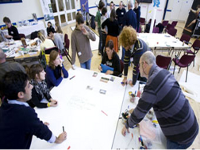 In the first case study, a leading consulting firm delivered a complex multi-stakeholder strategy project to a government agency, almost entirely using Southbeach Notation. The result: A year later, the lead consultant visited the client for an update, and ran a short workshop for the stakeholders. The welcome he got on arrival and their response in the meeting prompted him to write to the COO. Southbeach was enabling people from different business areas to openly collaborate and develop a shared plan on how to achieve their goals.
Read more about the IT Systems Transformation Case Study
Case study - Voice of the Customer (VoC)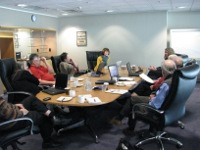 In the second case study, the use of Southbeach Notation helped a team to reach the understanding and consensus necessary to create and submit a complex bid that won them a major new contract (total contract value $2B). The client, a Fortune 500 company, stated that the aligned solution proposed by the bid team represented 65% of the reason that they awarded the contract to the supplier. The value of a shared visual space for the team, combined with methods to generate solution ideas, is explained.
Read more about the Voice of the Customer (VoC) case study