Welcome to Southbeach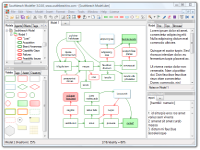 A unique visual modeling style oriented to any design, problem solving or innovation project.
Based on the simple idea that everything that exists or that can be imagined, even the air we breathe, is both useful and harmful from someone's perspective. Think of a fish out of water!
Where a spreadsheet program uses simple formulae to perform calculations, Southbeach uses creativity rules to generate directions for new ideas. Southbeach diagrams come to life, suggesting their own improvements. Model goals and risks, issues, choices and actions.
A tool for innovation. Our software is used to invent or improve products, processes, systems and organizations. It can also model ideas, strategies and policies.
Decompose the 'as is' situation or 'current' design into useful and harmful elements, by structure, time, customer perspective, stakeholder ... or any other dimension relevant to your project, and to any degree of detail. Now generate 'to be' ideas.
Why a new modelling tool?
Southbeach is different from mind mapping or concept mapping software.
The notation, with a built-in rules engine, lets our users apply the problem solving methods they already know, as well as to teach themselves about TRIZ.
Build your own library of reusable creativity. Apply your thinking to new models you develop.
Easy to use, intuitive
Unique - creativity engine
User extensible
Fast, flexible, productive
Low cost and
Team discounts
Your creativity
We hope that you enjoy our software. Browse our screenshot gallery. Download the free 30-day trial. Experiment with the extensive example models provided. Dip into our online model library.
We are here to help. If you have questions, contact us.