Welcome to Southbeach v4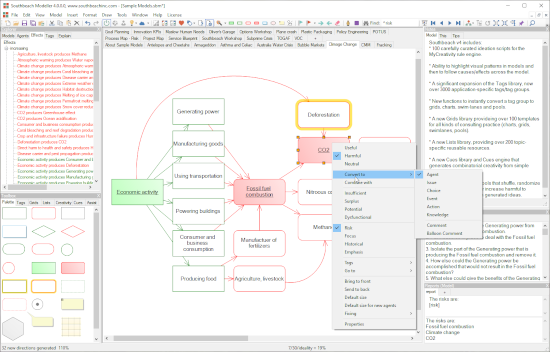 Southbeach is a unique visual modelling tool (desktop application) that supports 100s of creativity, problem-solving, lateral thinking and ideation approaches.
The software comes bundled with carefully curated ideation scripts and rulesets, 3000 application-specific tags/tag groups, and over 100 pre-configured grids/charts/swimlane templates.
Containing an embedded rules engine (MyCreativity), the software is both scalable and extensible, allowing power users to customise or template virtually any visual thinking and problem-solving approach.
To kick-start creative thinking and to inspire the development or refinement of any visual model, the application also provides an extensive library of over 200 'lists' of reusable elements, covering a wide range of topics.
Why a new modelling tool?
Southbeach Modeller differs substantially from typical mind-mapping tools. The platform's unique notation combined with its integrated rules engine enables users to implement known or novel problem-solving techniques, and also acquaint themselves with TRIZ.
Unified modelling
Easy to use, intuitive
Idea generation engine
User extensible rules
Versatile, productive
Knowledge reuse
Your creativity
Enjoy our software. Download the free 30-day trial. Experiment with the extensive library of tags, grids/charts, resource lists, creativity rules and automated layout and assist tools.
If you have questions, contact us.